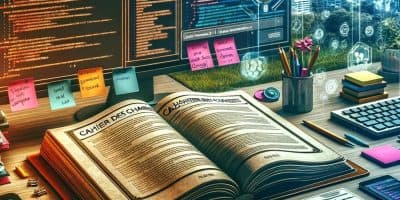 Drafting specifications
This pack offers a complete solution for companies looking to develop their online presence and improve the management of their information system. It combines expertise in drafting specifications for websites and web applications with strategic management of the information system, ensuring a coherent and integrated approach.
Main Missions :
Writing of Specifications: Creation of detailed documents for websites and web applications, defining the objectives, functionalities, technical constraints and success criteria.
IS Management Consulting: Evaluation of current information systems, identification of possible improvements and development of strategies to optimize data and security management.
Implementation Assistance: Assistance with the selection of service providers and project management for the creation of websites and applications in accordance with specifications.
Types of deliverables:
Specifications: Structured documents detailing the specifications of websites and web applications.
IS Assessment Report: Analysis of the current state of the IS with recommendations for improvements.
Strategic Plans: Roadmaps for the development and implementation of web and IS management solutions.
Project Management Guides: Tools and methods for effective management of web development projects.
Support Methodology
Preliminary Analysis: Understand the specific needs of the company, its environment and its long-term objectives.
Development of specifications: Close work with stakeholders to draft precise and complete specifications.
Strategic Planning: Development of coherent strategies for IS and web projects, with clear and achievable steps.
Continuous Monitoring and Advice: Support throughout the implementation of projects, guaranteeing alignment with specifications and strategic objectives.